Sample SWICS Data:
Please note that this section is under development
Here is some sample data from Ulysses/SWICS: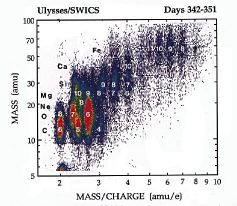 This is a mass/mass-per-charge composition plot of solar wind data. Click on the above image to get a closer view of the graphic, and for an explanation.
---
This page created by Jeff Miller at the
University of Maryland Space Physics Group
. It was last updated May 7, 2003. If you have any comments, suggestions, or have a URL that you think should go onto this page, please send them to
Scott Lasley
.